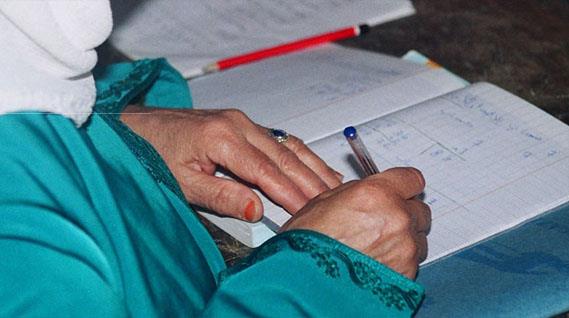 The exam's Comprehension Text
       [1] More and more people are interested in literacy education programmes in Morocco. According to recent statistics from the Ministry of National Education Literacy Department, the number of people benefiting from literacy programmes rose to 709,155 – an increase of nearly 54,000 over the previous year. 190,941 of the participants are children.
       [2] This year's programme has had a richer success than previous years because new ideas have been introduced, such as the publication of literacy teaching books, and the creation of multimedia teaching aids. Now, more than 750 non-governmental organisations are involved in literacy education; some of them are international. Thanks to the collective efforts of these organisations, many people have learned to read and write.
       [3] Imane Jbili is one of the people who benefited from such programmes. "I left school five years ago because my parents couldn't afford to pay for my school expenses, but I was able to return to the non-formal education programme this year. Now, I'm learning jewellery making so as to set up my own business in the future," she said.
       [4] Even pupils at primary schools are participating in fighting illiteracy. They sensitise their parents and other people, particularly in rural areas, to the importance of learning. Ali Maarouf, one of those pupils, helped a friend to return to school, and he is quite proud of his initiative. "I insisted that my friend should come back to study. I did all I could to persuade him and help him catch up with his classmates. I am happy now that he has managed to get along with classes," he said.
       [5] Nora Charaf, aged 42, learned to read and write over a period of two years. "Now, I understand a lot of things. I'm no longer ashamed of being illiterate. I feel that I've become someone else," she said confidently.
       [6] Rachid Salimi, a teacher, points out that although many people benefit from literacy classes, there are still millions of illiterates in Morocco. The present illiteracy rate for the Moroccan population aged 10 and over is 38.45%. "Fighting illiteracy is a big challenge; we must redouble our efforts to win this battle," he said.
National exam | Scientific Streams | Catch-up Session 2011 with Answers