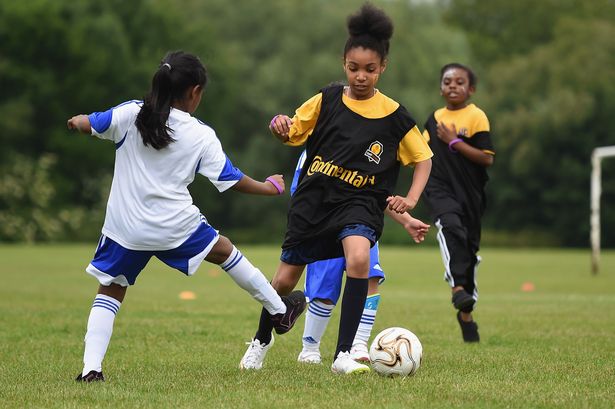 The exam's Comprehension Text
       [1] Fatmire Bajramaj and her family ran away from Kosovo to Germany during the war in the early 1990s. She began playing football at the age of six without her father's knowledge or permission. At first, she played after school with her older brother. Secretly, she joined a club team, using equipment that she borrowed from a team-mate. "My father wanted me to be a singer or an actress," Fatmire Bajramaj, who is known as Lira, said. "He told me that football was for men, not for women." Yet today, at 23, Lira is a midfielder on the German women's national team.
       [2] In Germany, a third of all children are born to immigrant families, and the issue of integration has become an urgent political concern. Heike Ullrich, the head of women's football federation in Germany, said "football is for everybody, men, women, black, white, all races and religions. Everyone should have a chance to come in contact with the ball. It unites people."
       [3] Lira was five when her family arrived in Germany and settled in a refugee centre. She said that she felt rejected by some locals as she went to and from school, hearing mocking remarks like 'gypsies' and 'go back where you come from.' At the age of six she joined a club in Giesenkirchen and later played near Monchengladbach.
       [4] "I was the only girl. At first the boys didn't accept me. But when they saw I could play football, they decided to play with me. Later they were fighting about which team I should play with," she said. One day her father attended a match to watch her brother and by accident learned that his daughter had also taken up playing football. His response was surprise but not disapproval. "He told me I was very good. Now he is my biggest supporter," she said.
       [5] In 2007, Lira played as a substitute when Germany won the World Cup final over Brazil. A year later, she scored both of Germany's goals in a victory over Japan for the bronze medal at the Beijing Olympics. Her present club Turbine Potsdam won the European women's Champions League title in 2010. "Playing football is what helped me integrate. First, I learnt the language. Later, I learnt a lot about the culture and the cities," Lira said.
       [6] "If Lira is a star in the next World Cup, maybe girls who wear the jerseys of their favourite players on the men's national team will start wearing those of the women's national team players," said Ulf Gebken, a German specialist in sport and social integration.
Adapted from: The International Herald Tribune, Monday, June 27, 2011
National exam | Arts Stream | Ordinary Session 2012 with Answers