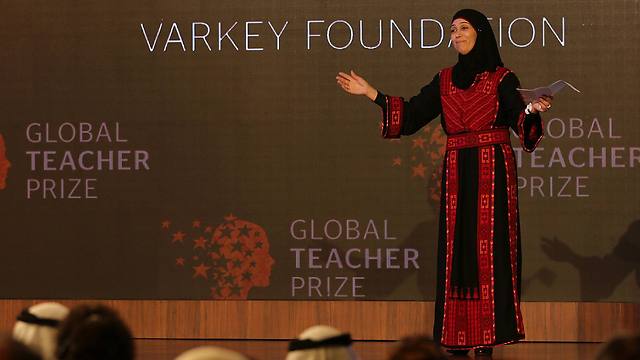 The exam's Comprehension Text
       [1] Hanan Al Hroub grew up in a Palestinian refugee camp near Bethlehem. She is now a teacher of refugee children herself. She specialises in supporting children who have suffered from violence. In 2016, she was awarded the Global Teacher Prize for her outstanding contribution to the teaching profession. The finalists for the Global Teacher Prize included teachers from India, Kenya, Finland and the United States. The award was announced at an awards ceremony in Dubai, with a video message of congratulations sent by Prince William. He spoke of the great responsibility of teachers and how they could influence and shape a young person's life for the better.
       [2] Pope Francis announced via a video conference that Hanan had won the $1 million teaching award. "I would like to congratulate the teacher Hanan Al Hroub for winning this prestigious prize because of the importance that she gave to the role of play in a child's education. A child has the right to play. Part of education is to teach children how to play because they learn how to be social through games as well as learn the joy of life," Francis said.
       [3] Hanan became a teacher after her children and husband were shot at on their way home from school. This incident had a negative impact on her children's behaviour and personality. She was left alone to support them. With no help from the educational authorities, she started inventing games at home and inviting the neighbours' children to participate. Gradually, the children's behaviour and grades began to improve. Now she teaches using play at school to help pupils reject violence and tension. In her speech at the ceremony, she told the audience that teachers could change the world.
       [4] "I 'm proud to be a Palestinian female teacher standing on this stage. I accept this as a win for all teachers in general and Palestinian teachers in particular. I tell all teachers that our job is humane and its goals are noble. We must teach our children that our only weapon is knowledge and education," she said after receiving the award. She says she will spend the prize money on supporting her students by creating scholarships to encourage excellent ones to be teachers.
       [5] The award was created by the Varkey Foundation, a non-profit organization founded by Dubaibased education entrepreneur Sunny Varkey. It aims at improving the standards of education for underprivileged children throughout the world. "I hope that this teacher's story would inspire those looking to enter the teaching profession".
Adapted from: www.bbc.com, http://edition.cnn.com, www.aljazeera.com, and www.usnews.com
National exam | Humanities Stream | Catch-up Session 2017 with Answers