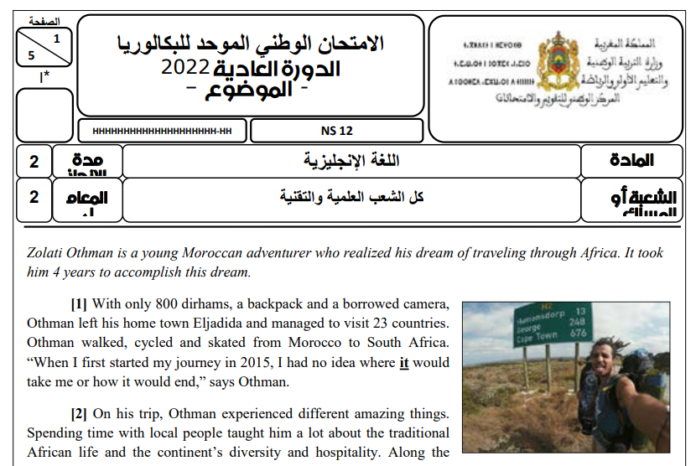 The exam's Comprehension Text
Zolati Othman is a young Moroccan adventurer who realized his dream of traveling through Africa. It took him 4 years to accomplish this dream.
[1] With only 800 dirhams, a backpack and a borrowed camera, Othman left his home town Eljadida and managed to visit 23 countries. Othman walked, cycled and skated from Morocco to South Africa. "When I first started my journey in 2015, I had no idea where it would take me or how it would end," says Othman.
[2] On his trip, Othman experienced different amazing things. Spending time with local people taught him a lot about the traditional African life and the continent's diversity and hospitality. Along the way, people invited him to sleep and eat with them and they offered him rides. To finance his journey, Othman worked as a fisherman in Senegal, a mechanic in Mali and he also sold shoes in Cote d'Ivoire.
[3] During the 30000-kilometer long journey, Othman also faced a few challenges. He survived malaria three times and was chased by border police on his skateboard. He mistakenly slept in a national park of wild animals. He once spent 24 hours in prison because he did not have his passport on him. He also ended up in Zambia with only 50 dirhams in his pocket.
[4] After the journey, Othman told his story through Africa and I, a 90-minute documentary. To bring his film into reality, Zolati collaborated with a team of award-winning South African artists, including the director Chris Green. The project was financed by private sponsors and donors. Through the film, Othman wants to inspire young people to change their perceptions of Africa by showing them the beauty, diversity and hospitality of the continent. "This is why I'm here, to see things differently and to change my way and others' way of thinking about these people," says Othman.
[5] Othman was named Adventurer of the Year at the 2018 Moroccan Adventure Film Festival, and was recognized and awarded as one of the world's best travelers at the Dubai Travelers Festival in 2017. He is already planning his next trip. "I have crossed the land. What is left now is the ocean. My next journey is going to be on a sailing boat around the world," he says.
Adapted from: www.theculturetrip.com
National exam | Scientific Streams | Ordinary Session 2022 with answers